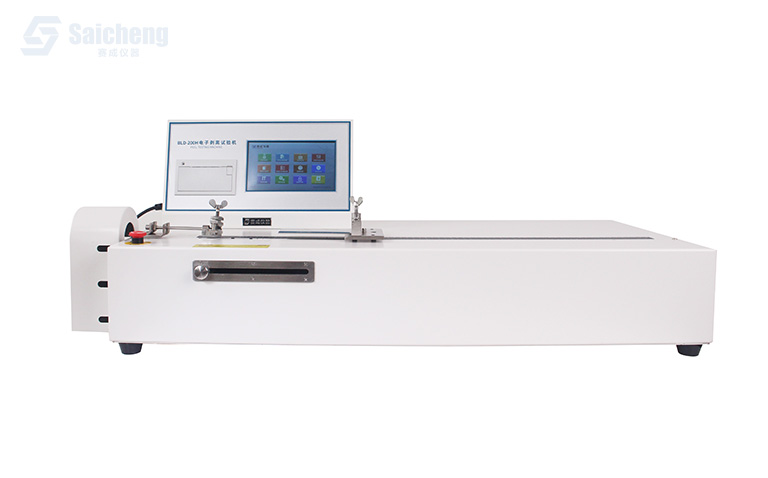 BLD-200H Peel Strength Tester
Product Introduction
BLD-200H Peel Strength Tester can be used for peeling, stripping and other performance tests of adhesives, adhesive tapes, pressure sensitive tapes, medical adhesive bandages, protection films, release paper, laminated films, leather, woven bags and paper.
BLD-200H Video on YouTube
Product Features
Seven inch touch screen.
Micro-computer control, menu interface, PVC operation panel.
Real-time curve, support software controlling.
Test Modes: 90° peel force, 180° peel force, tensile strength.
Screw drive system improved the displacement accuracy. Test speed is adjustable.
Maximum value, minimum value, average value and group data analysis are available.
Over load protection, power failure protection, user friendly.
Equipped with micro printer and USB port which is convenient for the data transfer and PC connection.
Multiple units available of N, KN/m, lbf, gf. Test report could be printed automatically after the test.
Comply with international standards of ISO, JIS, ASTM, DIN etc.
Test Standards
This test instrument conforms to many national and international standards:
GB/T 4850, GB/T 7754, GB/T 8808, GB/T 13022, GB/T 7753, GB/T 17200, GB/T 2790, GB/T 2791, GB/T 2792, QB/T 2358, YYT 0507, YYT0148, JIS-Z-0237, HGT 2406-2002
Applications
Basic Applications
Tensile Strength and Deformation Rate
Tensile Strength at Break
180 Degree Peel Test
90 Degree Peel Test
Extended Applications
Tear Resistance
Shearing Performance
Heat Seal Performance
Low Speed Unwrapping Force
Release Paper Peel Test
Adhesive Strength Test (soft)
Adhesive Strength Test (hard)
Technical Specifications
Items
Specifications
Test Range
200N (Standard)
30 N, 50 N, 100 N (Optional)
Accuracy
1% FS
Resolution
0.01N
Test Speed
1 ~ 500 mm/min (Adjustable)
Sample Width
0 ~ 30 mm
Stroke
650 mm
Power
40 W
Power Supply
AC 220V 50Hz
Instrument Dimension
880mm(L) x 320mm(B) x 400mm(H)
Net Weight
25 kg
Configurations
Standard Configurations: Instrument, Micro Printer, Test Plate, Standard Roller
Optional Parts: Load Cell, Professional Software, Communication Cable, Sample Cutter and Customized Sample Grips
Please Note: Jinan Saicheng is always dedicated to the innovation and improvement of product performance and function. Therefore, technical specifications are subject to change without further notice. Jinan Saicheng reserves the rights of final interpretation and revision.
Jinan Saicheng Instrument
, focusing on the R&D of
packaging material testing instruments
, provides you with cost-effective quality control solutions. We accept customization products for customer special need.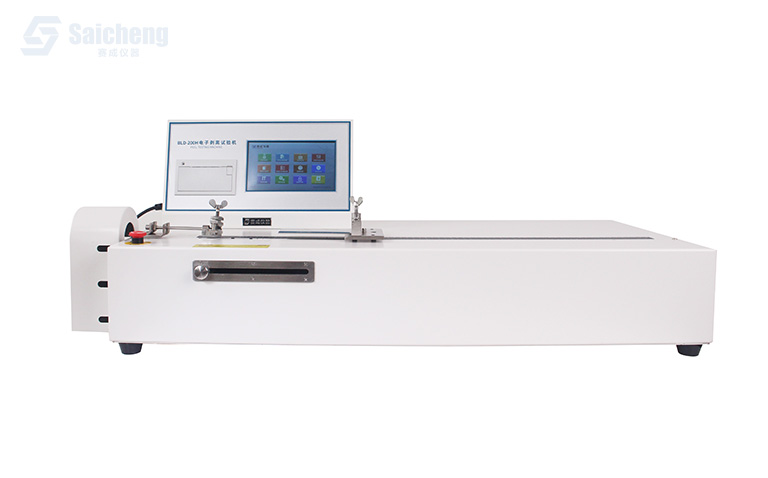 BLD-200H Peel Strength Tester
Need help or have a question?
For more information about testing technologies, please contact us. Our expert will reply to you ASAP.